27
How has the COVID-19 pandemic shifted the construction industry demand for BIM Professionals? What's in Store for you?
Mar 27, 2023
Category: BIM / Digitization / Automation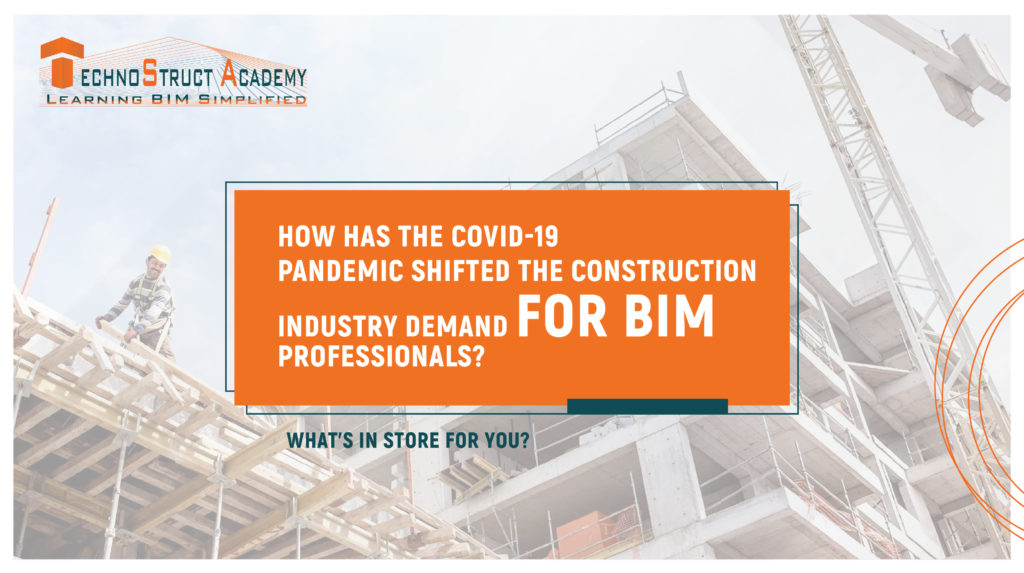 The on-going COVID-19 pandemic is yet another crisis that has wreaked havoc on an overstressed industry that tends to be vulnerable, especially to the economic cycles. At the onset, the deadly virus led pandemic shut the Indian AEC industry altogether, however, it also accelerated the growth of the construction sector at a later stage, with the increasing need for adoption of BIM and other construction technologies, and the rise in demand and need for modular, prefabricated and make-shift structures.
According to a study, the modular construction market share is expected to grow at an 8.16% CAGR by 2024, with increasing demand from Asia-Pacific countries such as India and China. Besides, BIM has given everyone – a common, intelligent, and model-based workflow to process, plan, design, construct and manage buildings while minimizing rooms for errors and iterations. Moreover, the rapid rise in population in India is expected to give a push to modular and prefabricated construction, especially in the following key areas-
Social Infrastructure
Schools
Hospitals
Government Accommodation
Water Defense Infrastructure
Water Resource
Entertainment Hubs, and more.
What's in Store for you?
This will skyrocket the need for not only BIM (Building Information Modeling) but skilled construction professionals to take over several roles from BIM Modeler to BIM Manager. However, the shortage of skilled professionals across the country may hinder and slow the growth of the market. The Indian AEC (architectural, engineering, and construction) industry is still highly influenced by traditional ways of construction, yet the changing market scenario and need together with the recent budgetary support may give a push to the sector to make a significant shift towards technology-based designs and engineering solutions.
Moreover, Indian professionals are being hired not only in India-based projects but across the globe, if qualified and skilled enough to meet the mark.
Here's where we come in!
Why TechnoStruct Academy?
TechnoStruct Academy empowers candidates to become industry leaders. We offer well-drafted BIM Training Courses that help candidates kick start their career in the AEC (Architecture, Engineering, and Construction) space. We, at TSA, offer you the opportunity to enrol yourself in our BIM Ready Complete – International Certification in BIM Modeling & Coordination that will put you one step ahead of the competition.
As part of the curriculum, the candidate will learn the basics of BIM Architecture, BIM Structure, BIM MEP (Mechanical, Electrical, Plumbing, Fire Fighting, and All Building Services), parametric modeling, learn to draw shop drawings, 4D,5D,6D modeling and applications, BIM and project collaboration, and also learn to create virtual reality (VR) enabled models.
Besides the curriculum, the candidate will also get the opportunity to:
Work on USA-based Live projects,
Work with our BIM professionals from across the globe in a 1-month free BIM Internship, and
Get placement assistance in MNCs.
TechnoStruct Academy is the educational enterprise of TechnoStruct, LLC, California. With its centers in Gurugram and Hyderabad, TechnoStruct Academy's training programs' primary goal is to enable students and industry professionals through re-skilling.
We aim to support you in bettering your best in your chosen disciplines and make you job-ready!
So, if you are looking to join a BIM course, visit our website: www.technostructacademy.com to know in detail about the latest batches in BIM Ready Complete, BIM Ready Plus, and more.
New batches start soon. Seats are limited. Book your place today!